Corvid's Cove
---
I am Corvid Lawrence, also known as Eldritch Corvid. I use He/Him pronouns.
I am an artist, cosplayer, and aspiring character/creature designer. Here you will find access to various personal accounts of mine, as well as my artwork.
---
---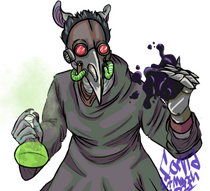 Clicking on the title will take you to where my commission information and terms are currently hosted on ToyHou.se.
---
Some examples are available below, though all uploaded art is available to view in the gallery here on ToyHou.se.
---
©Corvid Lawrence. All rights reserved.